1.SKTZC double-layer sports flooring adopts new designed elastic buckle to solve the phenomenon of expansion and contraction, and the problem of cracking and interlocking positioning.
2.This antique coins pattern sports flooring comes with 19.5mm,super thick structure,it has stronger compressive strength.
3. The plastic interlocking floor tile adopts arc frosted finished to avoid fall and skid ,also protect athletes safety effectively.
4. This kind of sports flooring is made of natural raw material,which is healthy and environmental protection, it is coated with anti-UV material, so the color fastness is maintained for a long time, and the service life of floor tile is guaranteed.
5.Center hole uses dust removal design to keep the surface flatness and solve the problem of dirt retention.
6. The flooring pattern uses non single  hole design, which can prevent vertigo for athletes,and it is applicable for large area field.
7.Intensive supporting leg is used to increase contact area between floor tile and ground,and improve wear resistance as well as enhance compression resistance.
Technical Data
Single flooring

Size (L*W*H)mm

300*300*19.5mm

1.Special elastic buckle is used to reduce the phenomenon of thermal expansion and contraction.

2.With the thickness of 19.5 mm,it's compressive strength is much higher than similar products

3.Large contact area can prevent fall and skid effectively.

4.Non single hole design can prevent vertigo.

Application

Basketball court, badminton court, volleyball court,roller skating court,outdoor futsal soccer field, outdoor kindergarten playground.

Ambient temperature

-40℃~70℃

Edge stripe size(L*W*H),mm

150*60*19.5

150*60*19.5

50*50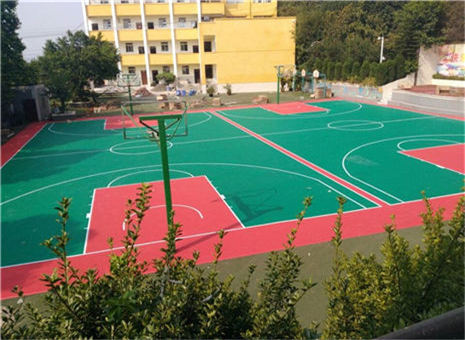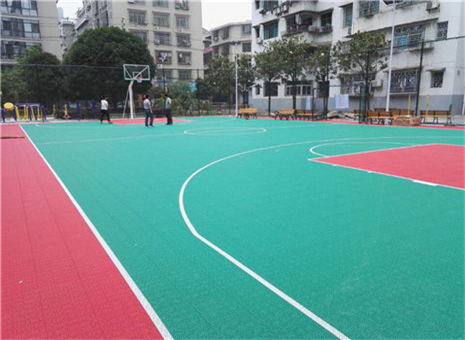 ---
---